David Chen is the CEO and Co-Founder of Strikingly.com. Strikingly allows anyone to get a gorgeous, mobile-optimized website in minutes. The company is backed by Y Combinator, a leading startup incubator, and has received funding from top investors in the U.S. and China. Here, we interview David in our first edition of The C-Suite: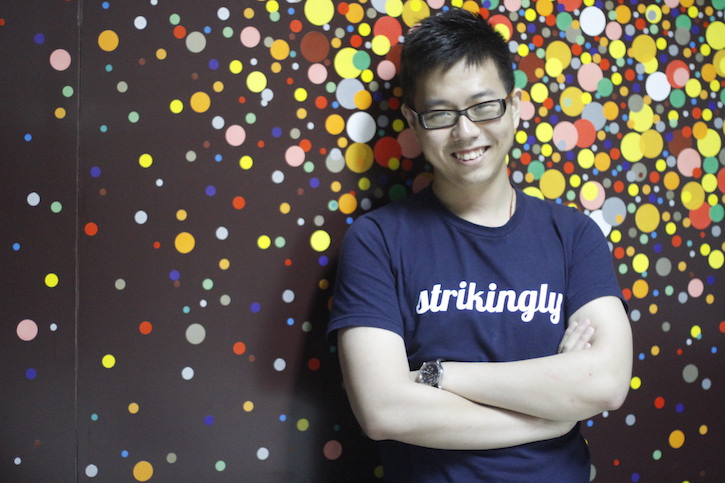 Brandingmag: First off, tell me how the Strikingly idea came about?
David Chen: It's a long story. Strikingly was our second startup, in a sense. We started doing something together back in 2010. Our first idea was a crowd-funding startup around the time. I was the VP in Student Government and a lot of people came to us for funding, but we could only give a small amount, so I thought, why don't we just allow their members to chip in and do something they want. Then we realized that funding was not really their core need. People who ended up using the crowdfunding platform used it as a web presence to present their ideas, organizations, campaigns, etc. Then I realize that I needed to build websites myself all the time as a student as well, for events, organization, etc.
At some point I actually started building up websites and picking up WordPress. That process was really long, so we started building up very simple prototypes of what later became Strikingly (where the first version of the prototype actually looks like a landing page). We launched the landing page with no product, nothing in the backend. Within three or four hours of work, and after one day of development, we got about 800-1000 people signed up in one and a half weeks. That's more than we were able to get in the entire nine months.
We really spent good quality time making that landing page look really nice, which is what people can now easily do on Strikingly, but back then it was cranking out the hard code. We got picked up by a couple of design magazines telling people how great the new design of the single-page style is and how you should use it, and initially it was also part of the driver for adoption. That was the inception of Strikingly.
We went through about three iterations across the time span of almost one year to get to a product that made sense for users. Our 3.0 version is when we actually saw the market picking it up and we started seeing that we're adding value to our users. Our mission has always been trying to help people launch something, instead of getting dropped down by technical barriers.

BM: One of the other things I was quite interested in, and you seem to be ahead of the curve, is the emerging trend of mobile first and web second. Could you speak to that a little bit?
DC: When we first launched the single page website, and if you look back to the history of the single page style website, it started becoming a trend in 2011. Back then, there were not that many websites in this style. A single page website is just a single scroller. You don't need to click around to jump between pages or refresh every single time you want to go to a separate part of the website for different information. Every piece of information is laid out in a linear story format that you can scroll through… You can see how that's much better for the mobile experience.
2011 was the beginning of this and that was also when mobile started to get a lot of adoption. When you look at these two trends, you will see that there's a fundamental reason as to why this style became the mainstream. Mobile screens have a natural constraint to how much info you can display. We also got rid of the keyboard and mouse, so the whole navigation of user experience is different. A touch screen with a scroller and slider experience is much more natural, in terms of navigation.
There's a converging trend between web design and mobile design, so the single page website simplifies minimal design. This defines the whole web, [rather than] just mobile. So (with the first website) you have to think about mobile as the main method that people will be online, and then use that simplified format to simplify the whole web experience. And that's how we think about these approaches.
RELATED: The Next Generation of Brand Innovation: Branding Roundtable #12
BM: I've interacted with numerous startups as of late and it's one of the things I'm quite interested in. What are some of the difficulties you've had in branding startups?
DC: Branding starts from knowing who you are. What are you passionate about? Because if you have a brand that's very inconsistent [with] what you believe in, it just doesn't really speak out that authenticity. Branding needs to really stay [at] the core of your values.
We actually have the "Strikingly manifesto" and we firmly believe in a few things: we believe in individuality, and each one of us has the chance to make a difference by adding something unique to the world (their unique talents or their creations). Our job — our mission — is to help them unleash that individuality to the world by helping them showcase what they've done.
When we first came up with the name Strikingly, that was very early on, like version 1.0 before we had anything. We were basically searching online [thinking], "Wow these one-page styles are awesome, we love the experience." We were trying to come up with that word to describe it and then, when we were looking for names that were available with domains, we realized that striking.ly was a domain. When we developed this, we always [told] ourselves: How can we make the experience striking for our users?
While looking at all the other website builders, we don't want to be one of them. All of these tools — things that focus on functional value — we just don't want to be one of them. We want to be the tool that enters a user's lifestyle, so we have to deliver a striking experience not only to them, but to the people they want to show themselves to. We actually got encouraged to change the name to something completely different with a .com domain because .com speaks out more legitimacy. Everyone else would write that Strikingly was epic for a site name — that's very clear evidence that we have been able to build brand awareness without acting like we're trying to do that.
When we developed this, we always [told] ourselves: How can we make the experience striking for our users?
If you have 100 people absolutely loving what you do, that's gonna be much better than a million people who sort of like us because we can always just build up on our fan base. Trying to turn one million people who sort of like you into users who really love you is really hard. So we had that concept and then we knew that we had a great, beautiful experience style. Our customers, our product, our name, everything is important and I think branding is not just like this mask you put on the website or something that you say; you have to fundamentally believe in yourself and what makes you unique.
BM: If you had a hierarchy of difficulties in branding, what would it be?
DC: First of all, everything starts from within. Internal alignment is before external branding. Internal alignment — it takes a long time. To go from knowing who you are and also as you start to hire, as you start to bring new people in — who are they? Are they contributing to the brand or are you diluting the brand [and] your beliefs? It's very challenging to pick the right people that align [with] your beliefs, instead of just contributing to your skill set. That takes courage because we have to say "no" more than "yes" to a lot of people who are absolutely fantastic — but they're not us. That, I believe, is one of the most important things and the most challenging part, which is internal alignment and building up a strong culture internally.
The second thing is making the brand actually connected to your action. All of the internal factors… you can't really talk about [them]. Talking about [them] is part of it, but you have to actually translate that [into] tangible results, like a product or customer service. You can't just say, "Oh, we want to deliver great customer service" [while] your customer service is really bad. Or you talk about how you want to deliver a great experience for users with products, but then the product becomes really bad. Or you talk about being a very individualized company, but then it turns out you're just like everyone else, focusing on the metrics instead of the users. Translate that into something action-dependable.
We actually do this [in] the smallest detail. We talk about transparency a lot [with] our users and [with] ourselves. We make our meeting rooms with glass windows, like the doors and all of the rooms. If you stand in our office, you can see everyone at all times and when we set up our desks, we make sure it's absolutely flat. We make sure that we have a great view of the outside, so that you can see clearly what's going on around you. You have to focus on the smallest details to make sure that your brand is actually manifesting itself, instead of you just talking about it.
It's very challenging to pick the right people that align [with] your beliefs, instead of just contributing to your skill set. That takes courage because we have to say "no" more than "yes" to a lot of people who are absolutely fantastic — but they're not us.
The third part is that you have to articulate it well. This is the process that takes numerous iterations. I mean, I was just talking about the Strikingly manifesto. We have a slight amendment to the manifesto itself that factors in the individuality aspect. It was a constant soul searching process. Clarity is usually very simple, something you can articulate in one or two sentences. When we wrote the first manifesto, it was exciting. It was something we wanted to do — it was something we believed in. We looked at [everything] we had done in the past.
But then I looked at it again and it's not that crystal…it doesn't punch in a way that touches a soft spot in my heart. I wanted that feeling to happen with me first and then have it happen to everyone else, which takes a lot of soul searching and [discovering] ways to reach every single word you can [use] to articulate it. The articulation of your identity really speaks out to other people. For us, it wasn't easy. We spent quite some time soul searching — thinking about it. Even being away from the team, we went outside, spoke to people who didn't know who we were, and saw how we presented ourselves.
SEE ALSO: Branding Edison: Creating a Culture of Brand Storytelling
BM: Complexity definitely kills. As far as the top lessons being learned, do you think they would sort of encompass the top lessons you've learned as well?
DC: Another thing, one of the difficulties I kind of mentioned before [is that] you have to actually know what you want to say "no" to. When you get clarity, you know it, and I think part of human dignity or human identity is not what you say "yes" to, but what you say "no" to — and maybe even more importantly what you say "no" to. For example, we had a suggestion to do white-label solutions. Our stance was very strong-armed: We don't do white-label solutions. We want to provide our users [with] a comprehensive experience like you're getting the customer support, but when you look at many of the other players in the market they might actually consider [white-label solutions]. But it's just not for us.

BM: My final question is what's next?
DC: There are a lot of things. Again, let me get back to the fundamental. The fundamental, our goal, our mission, is to help everyone unleash their individuality. Now I'm from China — I grew up in China. I came to the U.S. when I was 15 for high school. I felt strongly about the US culture, so when talking to people in the U.S. this might have been something that's more like, "Absolutely, this is the right thing to do." But in a lot of places outside of the U.S., it might not be as apparent.
As in China, people have a single definition of success that many go after, so [while] our mission stays very true to our heart, it's not a very easy mission for everyone around the world, and we're a fundamentally international company to begin with. Our team members come from Europe, China, the U.S., and a lot of places in Asia.
We're still at the very beginning stage of solving our mission. One of our challenges is that a majority of the people out there don't believe they have the capability of launching their own uniqueness, so how do we conquer that fear in people's minds? How do we actually fight that battle, so people know they actually have the power and capability to do things and unlock the Internet's power for themselves? A lot of people are plugged into the Internet which makes it tremendously more equal, more transparent than any other technology being developed. We have seen a completely blind user create a website on Strikingly — that's a moment that touched me. I didn't even know that was possible, but if he can do it then this means a lot of people can.
However, it seems that we're still far away from our mission. Every step forward is actually tremendously harder than the step before, so it's our goal to push that boundary forward.
---
The C-Suite is an ongoing series featuring C-level executives from innovative and intriguing companies worldwide. Stay tuned for each month's edition as we make our way through the top.